Rapid Deployment Masks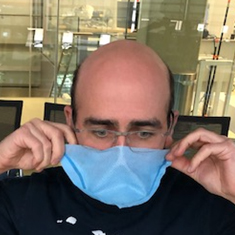 Project Leads: Kevin Aroom, William E. Bentley, Lex Schultheis
Robert E. Fischell Institute for Biomedical Devices
Engineers with the University of Maryland's Robert E. Fischell Institute for Biomedical Devices, in close collaboration with Children's National Hospital, have developed a rapid deployment face mask (RDM) for use in health and senior care facilities. The RDMs are designed to be made of sterilization wrap material typically used in hospital settings, often to wrap surgical instruments before a procedure. Since elective surgeries are largely on hold, these materials could be repurposed in hospitals and, perhaps, in senior living settings located near hospitals.
Led by the Fischell Institute's Kevin Aroom, William E. Bentley (professor, Fischell Department of Bioengineering), and Lex Schultheis, the team has proven that, when folded and affixed properly to the face, the RDMs pass the saccharin fit test (OSHA 1910.134 App A), a standard instituted by the U.S. Occupational Safety and Health Administration to confirm a qualitative fit.
The sterilization wrap material—made of polypropylene, and most often colored blue—has a higher filtration performance than cotton cloth, making it a more effective barrier to small particles than standard DIY masks, such as those commonly used by the general public.
The Fischell Institute's instructions are available for free access online. To date, the team has filed for U.S. Food and Drug Administration Emergency Use Authorization. Additional updates will be shared as they are made available.
To view instructions on how to make a rapid deployment mask, or to view associated documentation and updates about this project, please visit the Fischell Institute website.
Top