Solution Blow Spun Surgical Masks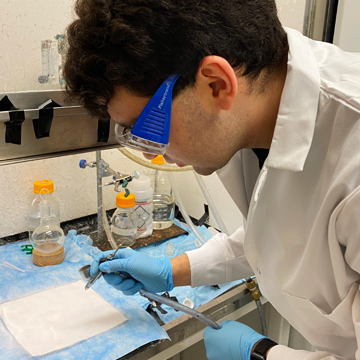 Project Leads: Peter Kofinas, Anthony Sandler
Department of Chemical and Biomolecular Engineering, Children's National Hospital
Department of Chemical and Biomolecular Engineering (ChBE) Professor and Chair Peter Kofinas is leading the charge on the fabrication of surgical masks. Kofinas works with polymers, which can be spun into fibers, and his lab, which collaborates with Dr. Anthony Sandler, surgeon-in-chief at Children's National Hospital, has adapted this technology to make surgical masks.
In a process known as solution blow spinning, which Kofinas has already used to create an adhesive for surgery, the team is able to use a spray polymer to form fiber masks. Together, they have devised several prototypes and plan to soon begin supplying them for use at the hospital.
Nanofiber mats have been shown to make promising N95 air filters, but the low throughput of conventional manufacturing techniques limits their widespread use. The technology of solution blow-spinning used in the Kofinas lab offers a scalable technique for producing nanofiber air filters, reaching 10 times the throughput of the conventional electrospinning technique. Additionally, solution blow-spinning generates a disordered three-dimensional mirroring that of the traditional melt-blown polypropylene N95 membranes, facilitating effective filtration with minimal airflow restriction.
More information about Kofinas' work on this technique is available online.
In addition to his ChBE appointment, Kofinas is an affiliate professor with the Fischell Department of Bioengineering, the Department of Materials Science and Engineering, the Maryland Energy Innovation Institute, and the Robert E. Fischell Institute for Biomedical Devices.
Top