Terpsanitizer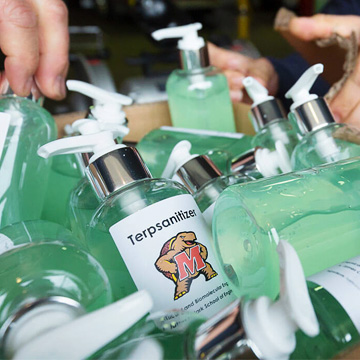 Project Leads: Dongxia Liu, Chen Zhang, Peter Kofinas
Department of Chemical and Biomolecular Engineering
University of Maryland (UMD) engineering faculty and students are using their lab capabilities to meet the urgent needs of first responders and medical professionals fighting the virus on the front lines.
Department of Chemical and Biomolecular Engineering (ChBE) Associate Professor Dongxia Liu and Assistant Professor Chen Zhang have shifted their facilities and equipment to the production of hand sanitizer. 
Using a recipe from the U.S. Food and Drug Administration (FDA) website, Liu and Zhang, along with several graduate students, are creating "Terpsanitizer," out of isopropyl alcohol and aloe vera gel for free distribution. While the isopropanol serves as the active ingredient to kill germs, the gel helps reduce skin dryness and irritation. In addition, the team adds a small amount of essential oil to provide a fragrance. Although the product is not officially FDA-approved, it follows the agency's guidelines.
In a single day, ChBE chair Peter Kofinas delivered 100 bottles of the product to firefighters with the Gaithersburg-Washington Grove Volunteer Fire Department. As production of the sanitizer continues, Liu, Zhang, and Kofinas plan to donate it to other first responders and community members, as well as to essential UMD staff and any students remaining on campus.
Photo courtesy of Stephanie S. Cordle/University of Maryland.
Top